15.12.2017
Today we get a premature Christmas present :-)
Fiero receives the breeding licence at the DRC!
Incredible how time flies, he still was a little pup yesterday :-o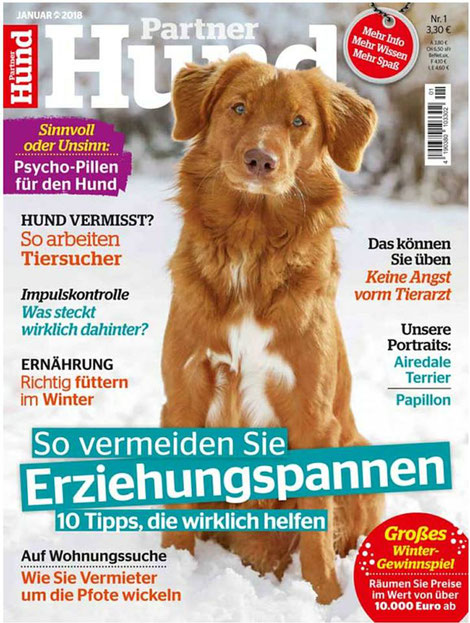 10.12.2017
Absolutely ingenious! :-)
Fiero is on the new cover of the magazine "Partner Hund" of the January issue.
03.12.2017
Today Fiero was allowed to be totally himself at the mental test in Aken (Elbe) and get a wonderful and appropriate judgement of Birgit Muhr.
"Der 24 Monate alte Toller-Rüde geht temperamentvoll, bewegungsfreudig und sehr verspielt durch alle Testsituationen. Dabei ist er sehr aufmerksam und unerschrocken. Mit Ausdauer verfolgt er Ziele.
Sehr ausgeprägt ist sein Beute- und Trageverhalten. Alle angebotenen Gegenstände werden freudig und ausdauernd zugetragen.
Er hat eine vertrauensvolle Bindung und ordnet sich bereitwillig unter.
Interessiert und verspielt geht er auf Menschen zu. In den einengenden Situationen ist er sicher.
Der Rüde ist schussfest. Im optisch/ akustischen Bereich ist er unbeeindruckt und untersucht selbständig.
Ein fröhlicher, aktiver Rüde, der gerne mit Menschen agiert."
27.10.2017
Today we have attended the DRC companion test in Taucha and got a "very good" 2. place. I am very happy about this result, because we had a short preparation time :-)
21.10.2017
We were at our first show abroad in Posen (Poland).
Fiero got "excellent 1" at the intermediate class . He has handled the exhausting long day very well.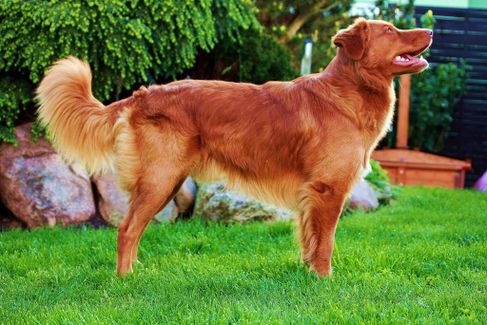 23.09.2017
Fiero and I were at the "Formwert" in Taucha. He convinced the judge Mrs Assenmacher-Feyel with his positive aura and got an "excellent" and a nice judgement:
"Vorzüglicher Rassevertreter. Maskuliner Kopf, mittlere Augenfarbe, vorzüglicher Behang, viel Ausstrahlung, vorzügliche Anatomie in allen Teilen. Freie raumgreifende Bewegung. Vorzügliches Haarkleid und Weißanteile."
measured size 52 cm/ 1,71ft/ 20,47 in
16.09.2017
Fiero passed his companion test of the VDH.
I am really happy.  :-)
01.07.2017
At the second show for intermediate class: Fiero got an excellent 1 with the VDH-CAC again.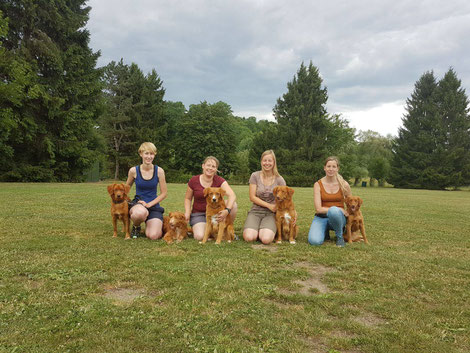 25.06.2017
Today Maria with A'Nuri and Fiero and I visited Nadine and the father of our pups Hoki. Anke with their brother Scotch was there too.
It was really nice to see them again. We have also managed to do a bit of training.
24.06.2017
We visited Fieros breeder Judith and went to the show in Aichach together. Fiero got an "excellent" at intermediate class and the first place with CAC-DRC and CAC-VDH.
The judgement:
"19 Monate alter Rüde, schöner Typ, toller Ausdruck und Temperament, guter Ohrenansatz & Halslänge, vorzügliche Schulter und Hinterhand, kompakte Rückenlinie, sehr gut entwickelte Brust und gutes Gangwerk" (Richterin: Mrs. Legrand-Leloup)
Very spontaneously I decided to let Fiero's eye check. Fortunately he is free of eye diseases :-)
16.-18.06.2017
This weekend Fiero and I visited our first tolling-workshop in Oberfranken.
I have learned many new things about this great breed and I'm impressed how naturally this dogs work!
Thanks to Heidemarie Bloss for the fantastic oranisation and to Doris and Thomas Hoffmann for the great instructions and active support provided to each participant at the workshop!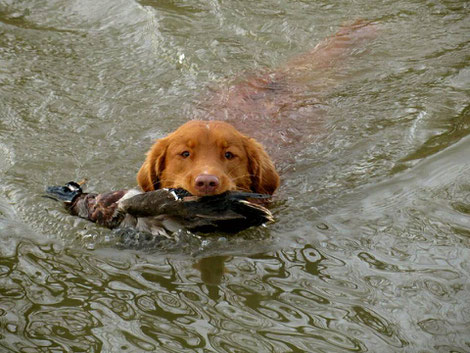 01.04.2017
Today Fiero passed the JP/R (junior hunting test) in Püchau. It was his first test :-D
I am very proud of my little dog, because he still needs time to grow up spiritually. Additional were the circumstance of Finja. That's why I don't work as usual and so that Finja get some peace he was by my friend some days.
In spite of everything he worked great though it was really warm today for April.
Now we can aim new objectives.......
21.03.2017
Well, sometimes things happen in a lifetime, which you neither expect, nor even want to occur. But that is real life...
Our lovely Finja had a herniated disc and had to be operated at the 12th/13th thoracic vertebra in the university hospital today. She came out of the surgery very well.
Now her health is the most important wehave therefore dicided that we will not use her for breeding anymore. Our hearts bleed, we were delighted of the mating with Rasmi.......
You can read the complete story of Finja's herniated disc here soon.
18.03.2017
We got Fieros x-ray results :-D
 HD: B1/B1 & ED 0/0
We are very happy about that!
13.03.2017
At the moment I have enough requests for a normal litter. Because I want to spend sufficent time with the prospective adoptive parents ;-) and get to know them personally, I can't take further requests now. Thanks for your comprehension!
If the situation changes, I will announce it here.
03.03.2017
Finja is also DEN (Degenerative Encephalopathie) tested and free.
Now we are waiting for only one more genetic test result!
04.02.2017
Two good news for today :-D
As of now we are an official kennel with the international protected name "Acadian Amber" of the FCI under the requirements of the DRC.
Finja (Hunter's Moonlight Handsome Finja) also got the DRC breeding permission and is suitable for the standard breeding. I am really happy - now the adventure 2017 can start!!!
10.01.2017
The next genetic test results is arrived :-)
Finja is CEA ( Collie Eye Anomaly) clear